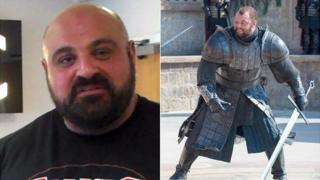 Game of Thrones star "The Mountain" has been beaten to Europe's Strongest Man title by a man from Swindon.
Laurence Shahlaei, originally from Cheltenham, took the title in Leeds from two-time title holder Hafthor Bjornsson who is also famed for his role in the popular television series.
Mr Shahlaei, nicknamed "Big Loz", said: "He's a great strongman but it was my day and it felt really good to win."
The 32-year-old is the first Englishman to win the title in 27 years.
Standing at 6ft 2in (1.9m) and weighing 22 stone (145 kg), the Wiltshire-based athlete had to overcome injury last weekend to take the crown.
"I've had a rough few years with injuries and to come back and win Europe's Strongest man has just meant the world to me," he said.
"There's five different events that you have to do. I did a 420 kilo dead lift, which was good enough for joint second and then we did a frame carry – it's a race and you're running a 20-metre course while carrying 450 kilos, which is close to 90 stone, and I won that event."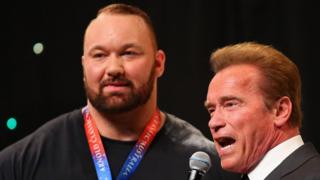 Competitors also had to lift a 177kg (28 stone) block above their heads "as many times as possible" as well as tackling the infamous Atlas stones – an event synonymous with strongman competitions.
But it was running 20m (65ft) with a Volkswagen Beatle on his shoulders in around 11 seconds that clinched the title from Iceland's Hafthor Bjornsson.
"My favourite of the competition was the car walk. Imagine Fred Flintstone running in his car – that was basically me," he said.
"I actually broke the world record on that event. They made the car even heavier this year and I managed over a second off my world record – which was really, really good."