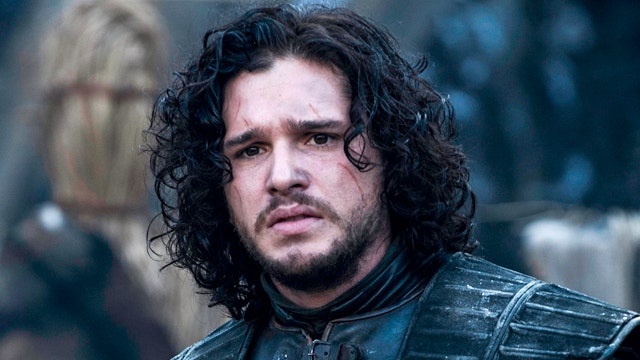 WARNING: Spoilers ahead for those who did not watch Sundays episode of "Game of Thrones."
Hopefully you had some tissues nearby and were ready to have your mind blown on Sunday night. "Game of Thrones" delivered one of its signature twists and now that the TV series has moved past the plot of George R.R. Martins books, fans have less of an idea of what to expect.
It all centered around everyones favorite companion Hodor (Kristian Nairn), who has been helping Bran Stark (Isaac Hempstead Wright) since day one. Bran pulled a Bran and accidentally alerted the White Walker king and army to his location and those highly motivated corpses came a flockin.
MORE: Emilia Clarke on Getting Naked for Fiery 'Game of Thrones' Murder Scene: 'That Ain't No Body Double!'
Unfortunately, they rolled up when Bran was busy in his trance and Meera (Ellie Kendrick) desperately tried to wake him and save him from becoming the White Walker armys late night snack. They sprinted through the caves with Hodor panicking until they reached the outside.
Meera screamed over and over Hold the door, which Hodor repeated time and time again. Bran sees a young Hodor in his trance, writhing on the ground and shouting, Hold the door, hold the door, Hodor, Hodor, proving that he has traveled through time to reveal how Hodor first got his name and signature (i.e. only) catchphrase.
When last we see Hodor, he is holding the door as the White Walkers slash through it while Meera carries the unconscious Bran far away as fast as she can. Its the ultimate sacrifice for a life-long protector.
MORE: 'Game of Thrones' Star Kit Harington Says He Revealed Jon Snow's Fate to Get Out of a Speeding Ticket
Following his characters heartbreaking exit, Nairn spoke with Entertainment Weekly about leaving the show, saying he felt Hodors death was appropriate.
I love it, he said. I couldnt be happier how he has gone out. The interesting thing is its kinda left open. You dont actually see him [die]. Its implied. So who knows? He may come back as a White Walker, maybe he got away. But its a really good way to do it. I couldnt have asked for a better goodbye to a character I love.
But fans did not exactly love Hodors tragic ending, taking to Twitter to express their dismay at losing the kind soul.
4:28 am im sitting out side rethinking my life .. #HoldTheDoor #GameofThrones

— Mineral Rights (@okMineralRights) May 23, 2016
@GRRMspeaking I don't think anyone has ever built such a deep and detailed storyline. You're a genious. That broke my heart. #holdthedoor

— Kagan Avci (@kaganavci98) May 23, 2016
Even other celebrities were shocked by the buzz-worthy episode.
One of the best eps of @GameOfThrones yet. Kind of speechless from the implications. Simply devastating. #HoldTheDoor #IseeYouMeera

— Aaron Tveit (@AaronTveit) May 23, 2016
— Joe Manganiello (@JoeManganiello) May 23, 2016
WAIT NOT HODOR!! Yoooou guys didn't tell me I thought…sorry for the joke HODOR aww man. (psst it was clever though..hello..anyone)

— Leslie Jones (@Lesdoggg) May 23, 2016
Read more: <a href="http://www.foxnews.com/entertainment/2016/05/23/game-thrones-reveals-shocking-twist-twitter-explodes.html">http://www.foxnews.com/</a>