The first English translation of Saddams warfare tale is to be published in the runup to Christmas, continuing a history of literary offerings from dictators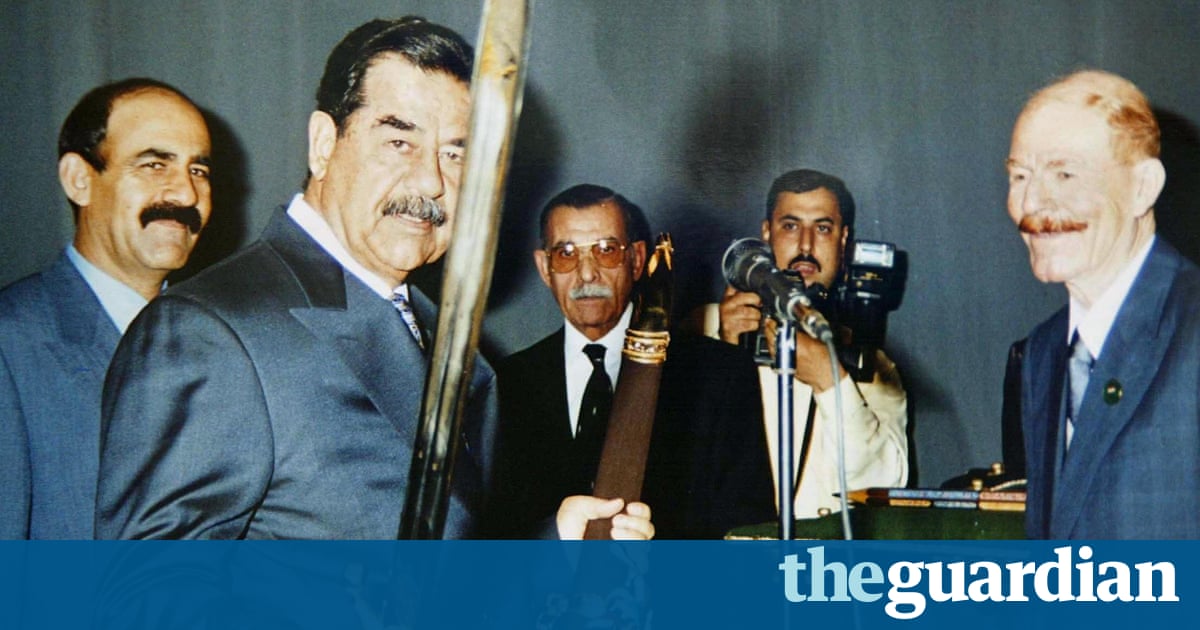 One more title is set to be added to the limited canon of fiction by dictators in December, when Saddam Hussein surreally joins the lineup of authors battling in the pre-Christmas market with what the publishers call a mix between Game of Thrones and … House of Cards. Announced this week by Hesperus, the as-yet-unnamed book is the first English translation of a novella written in 2002 or 2003, with an Arabic title meaning Begone, Demons!.
The Game of Thrones connection is the mixture of warfare with a historical setting, as the book centres on a long-ago tribe living on the banks of the Euphrates that suffers an invasion; while the political element sees an Arab nobleman taking on enemies clearly representing the US and Israel (two towers figure prominently, seemingly symbolising the World Trade Center).
With four fictional offerings altogether the best known is Zabiba and the King, in which the heroine (Iraq) flees her vile, abusive husband (the US) and falls for the cruel but empathetic King (the author) Saddam is the most prolific exemplar of dictator lit, but not without rivals. Colonel Gaddafi published short fiction brought together in English as Escape to Hell.
Saddams penchant for nationalist allegory or parable is shared by the former rulers of North Korea, as both Kim Il-sung (ruled 1948-94) and Kim Jong-il (1994-2011) were the nominal authors of childrens stories usually involving symbolic versions of the communist hermit nation overcoming enemies; such as Kim Jong-ils tale of children defeating monsters besieging their village, and Kim Il-sungs heroic butterfly preventing a cockerel, ie the US, bullying animals.
The era of dictators with a literary hinterland might seem to have passed with the deaths in the past decade of Saddam, Gaddafi and Kim Jong-il, but there is at least one still-reigning autocrat with fiction on his CV. Turkmenistans former ruler Saparmurat Niyazov contented himself with making Rukhnama his mixture of memoir, history and spiritual exhortation compulsory reading in the countrys schools; but, as part of his own equally outlandish cult of personality, Niyazovs successor Gurbanguly Berdymukhamedov (known if at all in the west for Jennifer Lopez singing at his birthday party, or for his humiliating fall from a horse at a state event) is a hyperactive author whose output includes the 2013 autobiographical novel The Bird of Happiness, about his father and those wonderful life lessons I learned as a child.
What was unusual about the bookish rulers of recent decades was that they wrote while in office (even apparently while awaiting invasion, in Saddams case). Their predecessors, in contrast, only ventured into novel writing in their earlier careers. Napoleon, when 26, wrote Clisson et Eugenie, a rom-trag novella about a young soldiers doomed love affair (published in English in 2009). Mussolinis overblown historical bodice-ripper The Cardinals Mistress, set in the 17th century, was written as a serial for a socialist newspaper in 1909 and published 20 years later when Il Duce was in power.
Read more: https://www.theguardian.com/books/booksblog/2016/jul/16/game-of-thrones-meets-house-of-cards-saddam-husseins-new-novella