Despite a pretty cut-and-dried (emphasis on cut) exit from the show in Season 6, apparently a Game of Thrones actor is making a return in Season 7. Its exciting news for fans, not so much for HBO.
Arya freaking kidding me?
You might recognize Frey as the dude who helped set up the Red Wedding, which led to the deaths of Robb and Catelyn Stark.
Well, you probably also remember Frey from a scene in Season 6, where Arya Stark serves his sons to him in a pie and slits his throat.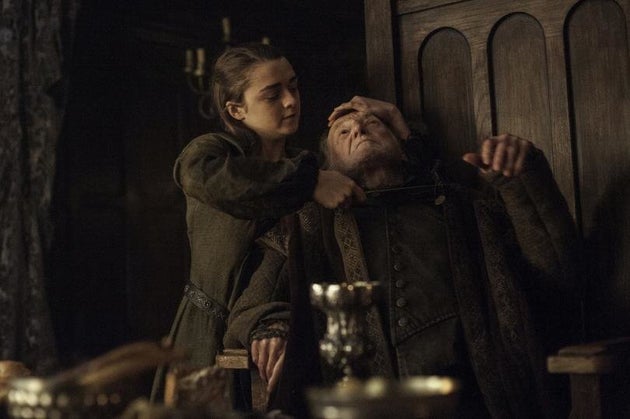 Yeah, thats not a cute look.
If he does return, theres probably only one reason why: Arya is putting her Faceless Men skills to work again by parading around in Freys skin.
It sounds awesome, but heres why its not super great for HBO.
Late last year, there was supposedly a massive leak of the Game of Thrones Season 7 plot from Redditorawayforthelads. Though you need to look at all leaks with skepticism, details from the Redditor are slowly getting confirmed. First, it seemed that a detail about Jon Snow bringing a wight to Westeros was true. Also,leaked photos show Jon and Dany meeting, which supports a rumor that the two will become lovers. (I wish I could erase that idea from my mind so I wouldnt have to write the word lovers. Gross.)
Now, theres this latest tidbit: Arya wearing Freys face to kill more of his sons is also in the leak.
Look, no ones going to pull a Jon Snow and try to bring Frey back to life. Hes not really a pleasant dude. If actor David Bradley does return, Arya is likely the reason why.
This doesnt necessarily mean all the leaks are correct, but its really not looking good for HBO. And when things dont look good for HBO,Lady Mormont is not happy. And when Lady Mormont is not happy, well, you dont want to know what happens.
Hang in there, Lady Mormont.
Read more: http://www.huffingtonpost.com/